new Beck video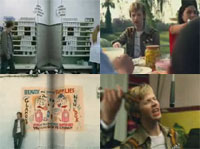 Watch the new Beck video for "Girl" at beck.com. A lot of stuff gets folded like the back covers of MAD magazine. Why? ….why not? After watching this, I'm starting to think that Beck only has one t-shirt and jacket.
My favorite Beck video is still The New Pollution.
No Comments »
No comments yet.
RSS feed for comments on this post.
The URI to TrackBack this entry is: http://music.diskobox.net/2005/06/new-beck-video/trackback/
Leave a comment