Beth Orton video, tour dates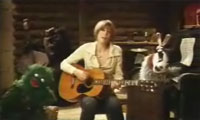 Puppets can be cute. Or scary. If you were to sit down and casually strum your guitar and sing a nice song, only to be accompanied by animals/random creatures popping out of nowhere, wouldn't that be a cause for alarm? Or the start of puppet hunting season? I…don't know. But I can't help but smile and think, "What the hell?" while watching "Beth Orton's":http://bethorton.astralwerks.com/ new video for "Conceived". Watch, unless you are a puppet-phobe:
* windows high | windows low
* real media high | real media low
The problem is that I can't even focus on the song due to the fuzzy green thing (like a combination of Oscar and the Cookie Monster) being…there. Its existence throws me off. But the video is amusing and THAT'S ALL I NEED. The world needs more puppet-centered music videos.
Beth will tour North American this spring with opener Willy Mason.
* 3/12 9:30 Club Washington DC
* 3/13 Variety Playhouse Atlanta, GA
* 3/15 SXSW Austin, TX
* 3/19 Gothic Theatre Denver, CO
* 3/20 Club Sound Salt Lake City, UT
* 3/23 House of Blues San Diego
* 3/24 Avalon Hollywood, CA
* 3/25 The Fillmore San Francisco, CA
* 3/27 Wonder Ballroom Portland, OR
* 3/28 The Showbox Seattle, WA
* 3/29 Commodore Ballroom Vancouver, Canada
* 4/1 First Avenue Minneapolis, MN
* 4/2 Barrymore Theatre Madison, WI
* 4/3 Vic Theatre Chicago, IL
* 4/5 The Majestic Theatre Detroit, MI
* 4/6 Carlu Toronto, Canada
* 4/7 Club Soda Montreal, Canada
* 4/8 Avalon Boston, MA
* 4/10 TLA Philadelphia, PA
* 4/11 Webster Hall New York City
I should probably go to the Webster Hall show, buuuuut…I don't know. I used to listen to her a lot, and then I stopped for some reason.
No Comments »
No comments yet.
RSS feed for comments on this post.
The URI to TrackBack this entry is: http://music.diskobox.net/2006/01/beth-orton-video-tour-dates/trackback/
Leave a comment